A SIMULATION MODEL OF DECISION-MAKING WITH REGARD TO EVALUATING THE EFFECTIVENESS OF THE CHEMICAL INDUSTRY
Keywords:
simulation model, evaluating performance, multi-agent approach, strategic decisions
Abstract
For the chemical industry, it is an important management decision. Predicting the results of the decision should avoid mistakes and unnecessary waste of resources for the implementation of inappropriate decisions. The evaluation of the effectiveness of the current state of the enterprise ensures identify ways to further its strategic development. There have been proposed simulation model of decision-making with regard to evaluating the effectiveness of the chemical industry. This model provides choice and strategic decisions on the basis of an assessment of the current situation of the company, particularly in the chemical industry. The formulation of the model applied multi-agent approach. The сonclusions about the applicability of this model in the development of management information systems of enterprises of chemical industry have been made.
References
1. Prokopenko, T. O., Ladanuk A. P. Informaciiyni tehnologii upravlinnya organizaciiyno-technologichnimi sistemami [Information technology management organizational and technological systems]. Cherkassi, Vertikal, vidavec Kandich S.G., 2015. 224 p.
2. Ladanuk A. P., Shymigai D.A., Boiko R.O. Sityacionnoe koordinirovanie podsistem tehnologicheskimi kompleksami neprerivnogo tipa [Case coordination of subsystems of technological systems of continuous type]. Problemi upravleniya i informatiki [Management and Informatics problems]. 2013, no. 4, pp.117–122.
3. Tomashevsky V.M. Zasobi imitaciinogo modelyuvannya dlya navchannya, yaki gryntyuytsya na movi GPSS [Means of simulation for training, based on the language GPSS]. Tehnichni nayki ta tehnologii: naykovii gyrnal [Engineering and Technology: Journal]. Chernigiv: Chernigiv. Nac. Tehnol. Un.2015, No. 2(2), pp 101 –105.
4. Borisov V. V., Bichkov I. A., Dementev A.V. Komputernaya poddergka slognih organizadcionno-tehnicheskih sistem [Computer support complex organizational-technical systems]. Goryachaya linia-telecom, 2002. 154 p.
5. Udickii S. A. Grafodinamicheskoeimitacionnoemodelirovanierazvitiyasetevihstryktyr [Count dynamic simulation of network structures] Upravlenie bolshimi sistemami [Management of large systems]. 2008,vol.3, pp. 45–62.
6. Trahtengerts EA Komputernie metodi realizacii ekonomicheskih I informacionnih upravlencheskih reshenii [Computer methods for the realization of economic and information management solutions]. Moscow, Sinteg, 2009. 224 p.
7. Brandshaw J. M. KAoS: Toward an industrial-strength generic agent architecture. Software Agents. Cambrige MA: AAA/MIT Press. 1996, рр.375 – 418.
8. Salamon T. Design of Agent-Based Models : Developing Computer Simulations for a Better Understanding of Social Processes. Bruckner Publishing, 2011. 220 р.
9. Prokopenko T. O. Metodologichni osnovi upravlinnya tehnologichnimi kompleksami v umovah neviznachenosti [Methodological basis of technological complexes under uncertainty]. Tehnologicheskii audit I rezervi proizvodstva [Technological audit and reserves of production]. 2013, no 6/4 (14), pp. 27–29.
10. Prokopenko T. O., Ladanuk A. P. Informasionaya model upravleniya tehnologicheskimi kompleksami neprerivnogo tipa v klasse organizadcionno-tehnicheskih sistem [Information technology management model of continuous-type complexes in the class of organizational and technical systems] Problemi upravleniya i informatiki [Management and Informatics problems]. 2014, no. 5, pp. 64–70.
11. Zhang, W.R. A Cognitive Map Based Approach to the Coordination of distributed cooperative agents. IEEE Trans. Systems Man Cybernet. 1992, no. 22, pр. 103–114. doi:10.1109/21.141315
12. Prokopenko T. O., Uretska Uy. I. Koncepciya myltiagentnoi informaciinoi sistemi ypravlinnya proektom v ymovah neviznachenosti [The concept of multi project management information system under uncertainty] Vestnik NTU "KhPI" [Bulletin of NTU KhPI].2014, no. 2 (1045), pp. 65–69.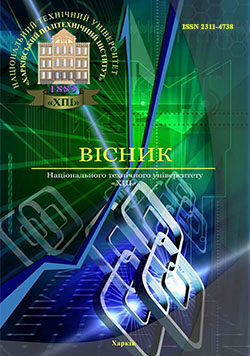 Downloads
Section
Сборник научных статей
License
Copyright (c) 2017 Тетяна Олександрівна ПРОКОПЕНКО, Вікторія Іванівна КРЕЗУБ
This work is licensed under a Creative Commons Attribution-NonCommercial-ShareAlike 4.0 International License.
Our journal abides by the Creative Commons copyright rights and permissions for open access journals.
Authors who publish with this journal agree to the following terms:
Authors hold the copyright without restrictions and grant the journal right of first publication with the work simultaneously licensed under a Creative Commons Attribution-NonCommercial-ShareAlike 4.0 International License (CC BY-NC-SA 4.0) that allows others to share the work with an acknowledgement of the work's authorship and initial publication in this journal.

Authors are able to enter into separate, additional contractual arrangements for the non-commercial and non-exclusive distribution of the journal's published version of the work (e.g., post it to an institutional repository or publish it in a book), with an acknowledgement of its initial publication in this journal.

Authors are permitted and encouraged to post their published work online (e.g., in institutional repositories or on their website) as it can lead to productive exchanges, as well as earlier and greater citation of published work.