PROJECT MANAGEMENT AS THE BASIS FOR ENERGY SAVING IN HOUSING AND UTILITIES SECTOR
Keywords:
energysaving, project management, construction industry and housing
Abstract
Considered a scientific approach to energy conservation issues in the housing from the standpoint of program-oriented management, when in contrast to the current practice solutions of energy saving tasks, the process is carried out based on the analysis and comparison of the costs and resource losses for each energy-saving project, and the energy-saving process is based on the provisions of the theory project management. The necessity of mandatory registration of housing construction industry sub-sectors with the utilities in the process of implementing energy-saving strategies. Proposed key areas of energy efficiency of existing and new buildings, formed components selection, programming and planning of energy saving activities at the strategic, tactical and operational levels. We studied the organizational and structural relationship of the construction sector and sub-sectors of housing and communal services in the implementation of energy-saving strategies. We prove the advantages of using the network form of organizational and economic support implementation of energy saving projects. 
References
1. Pro pidsumky` parlaments`ky`x sluxan` «Energety`chna polity`ka Ukrayiny`»: Postanova vid 22 chervnya 2000r. #1826-III [On the results of the parliamentary hearings "Energy Policy of Ukraine": Decree of 22 June 2000. №1826-III n Evaluation]. Available at: http://zakon4.rada.gov.ua/laws/show/1826-14.
2. Pro zaxody` shhodo rekonstrukciyi zhy`tlovy`x budy`nkiv pershy`x masovy`x serij: Postanova vid 14 travnya 1999 r. (Iz zminamy`, vneseny`my` zgidno z Postanovoyu KMU # 32 (32-2002-p) vid 10.01.2002 # 820). [Measures for the reconstruction of dwelling houses first mass series: Decision of 14 May 1999 (amended in accordance with the CMU number 32 (32-2002-P) on 10.01.2002 number 820)]. Kiev, 2002. 5 p.
3. Vorob'ev A. Ju. Problemy i zaboty regionov v XXI veke [Problems and concerns of regions in the XXI century]. ZhKH [HCS]. 2013, No. 4, pp. 40–46.
4. Brigilevy`ch V. ed. Termomodernizaciya zhy`tlovogo fondu: organizacijny`j, yury`dy`chny`j, social`ny`j, finansovy`j i texnichny`j aspekty` [Thermo housing: organizational, legal, social, financial and technical aspects]. Lviv, 2012. 262 p.
5. Ganzha V. A. Osnovy jeffektivnogo ispol'zovanija jenergoresursov [Fundamentals of energy efficiency]. Minsk, Belarusian science, 2007. 451 p.
6. Gry`gor'yeva L. V. Ocinka potencialu budivel`ny`x pidpry`yemstv yak anality`chne zabezpechennya investuvannya. [Evaluation of potential construction companies as analytical support for investment]. Elektronne naukove faxove vy`dannya «Efekty`vna ekonomika» [Electronic scientific specialized edition of "Effective Economy"]. TOV DKS «Centr», 2012. Available at: http://in.ukrprojekt.gov.ua.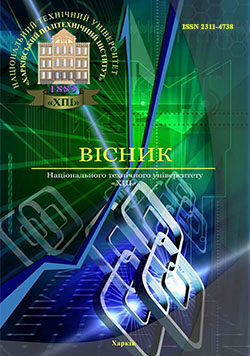 Downloads
Section
Сборник научных статей
License
Copyright (c) 2017 Павло Трохимович БУБЕНКО, Олексій Павлович БУБЕНКО
This work is licensed under a Creative Commons Attribution-NonCommercial-ShareAlike 4.0 International License.
Our journal abides by the Creative Commons copyright rights and permissions for open access journals.
Authors who publish with this journal agree to the following terms:
Authors hold the copyright without restrictions and grant the journal right of first publication with the work simultaneously licensed under a Creative Commons Attribution-NonCommercial-ShareAlike 4.0 International License (CC BY-NC-SA 4.0) that allows others to share the work with an acknowledgement of the work's authorship and initial publication in this journal.

Authors are able to enter into separate, additional contractual arrangements for the non-commercial and non-exclusive distribution of the journal's published version of the work (e.g., post it to an institutional repository or publish it in a book), with an acknowledgement of its initial publication in this journal.

Authors are permitted and encouraged to post their published work online (e.g., in institutional repositories or on their website) as it can lead to productive exchanges, as well as earlier and greater citation of published work.